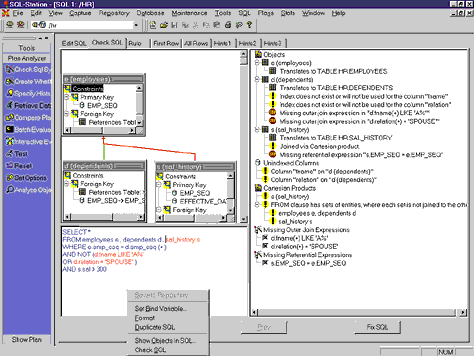 Plan Analyzer's Check SQL visualizes, JOINs, identifies common coding errors, flags logic errors, and suggests ways to improve performance by re-writing. Just click the Fix SQL button!

At the next level, someone who understands Oracle's Explain Plans might want to see all the details of the proposed fix. SQL-Station Plan Analyzer presents plans graphically, with explanations that reach far beyond Oracle's performance statistics and tuning options. Plan Analyzer presents all the information about the analyzed statement at a glance:
SQL statement (formatted and color-coded)
Graphical EXPLAIN plan
Plain English description of the current step
Complete statistics for the objects accessed in the current step (table, index, cluster)
Plan Analyzer steps you through the plan, allowing you to view the relationships between steps (children/sibling or parent step) and the description of the step
It even color-codes alarm and warning conditions according to the thresholds you define
Many times, you don't have the luxury of tuning during development. You are working in a production environment when performance problems crop up. You can use Plan Analyzer and Detector to capture SQL, and after you capture it, you can go into Plan Analyzer's tuning framework to analyze and solve problems with indexing schemes, access paths, and other elements.

Capture Runaway SQL
Plan Analyzer's flexible, real-time or batch SQL-capture facility traps server-side SQL code and associated optimization plans from database sources and third-party development tools (such as Visual Basic and PowerBuilder). With the capture facility, you can identify SQL that causes slow transactions based on various filters, such as CPU usage, I/O, elapsed time, and more.

On the client-side, SQL-Station Detector can quickly identify which query or procedure is hanging up performance and can profile SQL activity for a packaged application, even without the source code. Detector allows you to track, view, and save all the database calls performed from a specific client. If the problem seems to be related to a stored procedure or package invoked by the client application, you can easily track it down using Debugger. Or you can hand inefficient SQL code over to Plan Analyzer for tuning. Detector uses non-intrusive technology, easily installed on the client, as a capture agent. There is no burden on the database server, minimal demands on the client, and absolutely no source code changes required.

Use the Repository for Change Detection and Management
Users save valuable information in the Plan Analyzer Repository including current work, previously tuned plans, SQL statements, and performance statistics. If performance suddenly drops, a simple query reveals recent changes, helping you locate the offending SQL quickly.

Over time, Oracle-generated optimization plans, growing table size, and changing indexes will alter your database. Plan Analyzer allows you to run reports to determine how your database has changed. You can find out if, for example, your SQL calls an extinct or rarely used index. Or, you can search for and compare a recently saved plan to a production plan.

Build Better Indexes for ERP Applications
Indexing makes or breaks the performance of many ERP applications, such as PeopleSoft, SAP, or Baan. Few sites, however, can afford to discover the right indexing strategy by trial and error. Plan Analyzer's What-IF feature lets users explore various indexing schemes and their impact on SQL performance without the usual expenditure of time. With What-IF, you can create or drop virtual indexes on a table without actually changing your database. You don't have to guess if adding an index will help performance you will see the actual Explain plan from the Oracle optimizer.

Empower Team Development
Increasingly, as more applications rely on complex business logic implemented in database server-side code, members of a development team have to work concurrently (sometimes from remote locations) on large applications and complex database schemas.





SQL-Station seamlessly integrates with most commercially available version control and change management tools, such as PLATINUM CCC/Harvest, Microsoft Visual SourceSafe, Intersolv PVCS, and many others. Often, however, managing development for database objects and code has specific requirements that are not met in general-purpose version control tools. SQL-Station Code Manager addresses these requirements with:
Robust database-aware version control, with check in, check out, and the ability to compare revisions and revert to previous versions
Full integration within the development environment provides drag-and-drop deployment, syntax checking, debugging and even tuning straight from the version control library
Intelligent deployment of database server-side code from development through test to production saves painstaking development of deployment scripts
Ability to reverse-engineer and break down complex database scripts into components really puts DBAs in control, eases maintenance and boosts DBA productivity
Management for your design documents or ER diagrams in the same environment with your code objects
Gain Synergy with Other PLATINUM Products
If you are both a DBA and developer, you may want SQL-Station Advantage instead of SQL-Station. PLATINUM SQL-Station Advantage combines the functionality of SQL-Station with PLATINUM DBA Advantage, which enables you to administer, migrate, monitor, report, and edit data within your databases. The integration between these toolsets enhances efficiency and productivity by letting DBAs and developers perform all their tasks while seamlessly crossing component boundaries.

DBA/developers and data administrators can also realize tremendous productivity and quality benefits by using SQL-Station Advantage and PLATINUM ERwin, the pre-eminent data modeling tool, together for database application design and maintenance. SQL-Station extends ERwin's capabilities from the data model to managing objects in the live database and developing database server-side code.

Powered by POEMS
SQL-Station takes complete advantage of the PLATINUM Open Enterprise Management Services (POEMS). These common services provide a standard GUI-based management console ProVision's PLATINUM Director as well as other common components such as installation, communications, data sharing, and event management. The functional integration provided by these services allows users to automate critical management processes and collaborate on problem resolution using the management console. Each ProVision tool can be used independently, or as part of a completely integrated suite that addresses your critical management needs. The Powered by POEMS logo is your assurance that SQL-Station includes POEMS fully implemented in the product, and is ready "out of the box" to integrate with other POEMS-enabled tools.