| | |
| --- | --- |
| | |
Generate Test Data Instantly
It used to take hours, days, and even weeks to manually generate test data for database applications, warehouse implementations, and Year 2000 projects. Now, with PLATINUM TESTBytes, you can automatically create millions of rows of meaningful test data with simple point-and-click action.

TESTBytes is a powerful, easy-to-use tool that automatically generates test data, providing an incredible productivity boost to database developers, QA testers, data warehouse developers, and Internet/intranet application developers.

Just point-and-click your mouse to specify the type of data you need. TESTBytes automatically produces up to millions of syntactically correct test data, eliminating days or weeks of time-consuming scripting or coding, thus reducing costs.

Populate Databases Easily
After you create a physical database, populating it for testing can be a challenge. Data can reside throughout the enterprise, so obtaining the exact type and quantity of data needed to test your database applications is often drawn-out and difficult. Using TESTBytes, you can create up to millions of rows of test data — quickly and easily.

Define Test Data in Three Different Ways:
Create Default Data
TESTBytes uses the system catalog tables to create random data that is consistent with the datatype and length definitions stored in your database, producing "valid garbage" that is useful for load testing of applications.


Generate Data Using Standard Data Profiles
TESTBytes includes standard profiles that automatically produce names, addresses, cities, states, zip codes, Social Security numbers, Year 2000 test dates, and other common data values. Synchronized profiles allow realistic sets of data to be produced (e.g., cities within states).


Meet Requirements with Custom Data Profiles
TESTBytes can also generate custom data to match your specific requirements, such as a range of values that are randomly produced, or a mix of random and specific values needed to rigorously test your database application. Special alphanumeric combinations are no problem. Just build your requirements through the TESTBytes wizards and TESTBytes does the rest. Or, import a list of values from a text file to create a custom profile.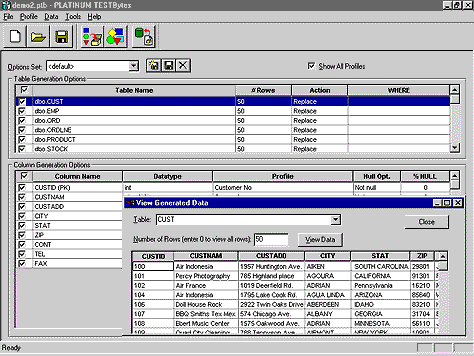 TESTBytes connects to your ODBC-compliant database to instantly generate meaningful test data for your relational database application.

Protect Your Data
Used by federal agencies and Fortune 500 companies with strict security requirements, TESTBytes provides realistic test data without compromising the security of corporate data.

Get Better Quality Applications with
Full-Cycle Testing
Building a reliable database application requires testing throughout the development process. Eliminating dependency on others to provide test data, PLATINUM TESTBytes allows developers to be self-reliant and start testing applications earlier in the development cycle.

Benefit from a Rich Menu of Features
Generates meaningful test data and populates the target database automatically without the need to write scripts or a single line of code.
Creates masked data within a column, making it possible for users to specify profiles for segments of a field (i.e., values for titles such as Mr. or Ms.), one or more digits of a zip code, or area codes.
Supports referential integrity either directly from the database, or from an ERwin model.
Generates data to multiple tables with one click.
Supports key unification and relationship cardinality.
Enables developers and testers to communicate their test data generation needs through standard reports.
Generates optionally to flat files, creating separated and delimited files that can be used to populate databases with large amounts of data quickly and easily.
Allows definition of flat file formats that are independent of your database table definitions.
Allows less technical QA and testing team members to be productive early in the testing cycle.
Supports 32-bit Windows environments with an ODBC-compliant database.
Technical Specifications
System Requirements: Pentium running Windows NT or Windows 95
RAM:32 MB
Hard Disk: 25 MB